Choose your own adventure with TADA! Youth Theater's Musical Theater Summer Camps and Classes! Whether you're interested in a morning camp, an afternoon class, or a one-time workshop – you've got a front-row seat.
TADA! brings Broadway to you with a variety of interactive, fun, musical theater camps, classes, and workshops for ages 4-11. TADA! summer programs will keep young people engaged, active, and performing safely online and in-person – with a lot of razzle-dazzle, of course.
Every week your child will:
ENGAGE IN MUSICAL THEATER TRAINING
RECEIVE INDIVIDUALIZED ATTENTION AND SOLO OPPORTUNITIES WHERE THEY WILL BE SEEN AND HEARD
LEARN VOCALS & CHOREOGRAPHY TO FUN, UPBEAT SONGS BASED ON THE THEME FOR THE WEEK!
EXPERIENCE ENSEMBLE-BASED INSTRUCTION BY TWO PROFESSIONAL NYC TEACHING ARTISTS
AND MAKE CONNECTIONS WITH NEW FRIENDS!
Online camps take place on Zoom and culminate in a final sharing for an invited Zoom audience, while in-person camps take place at TADA!'s Manhattan location on 28th street in between Broadway and Fifth Ave.
Weekly Online Camps are available July 5-9 and July 12-16 for ages 4-5, 6-7, and 8-11. Weekly In-Person Camps are available July 26-29, August 2-5, August 9-12 and August 16-19 for ages 7-10. Register today! https://www.tadatheater.com/summer-camp
Not interested in Summer Camps? TADA! offers weekly afternoon classes (4-week sessions) and one-time workshops on Mondays, Wednesdays, and Thursdays. https://www.tadatheater.com/online-classes
Looking for financial assistance? No child will be turned away because of their inability to pay. Learn more: https://www.tadatheater.com/financial-assistance.
Want to try a sample class before you register? Join us at a FREE Online Open House on Saturday, May 15 or June 5. It's free to attend, but registrations are required. Visit https://www.tadatheater.com/online-open-house to reserve your spot today.
Online camps & classes take place ONLINE - via Zoom
In-person camps take place at TADA!'s physical location at 15 W 28th Street, New York, NY 10001
USE CODE MACARONI15 FOR AN EARLY BIRD DISCOUNT OF 15%, ENDS MAY 15TH.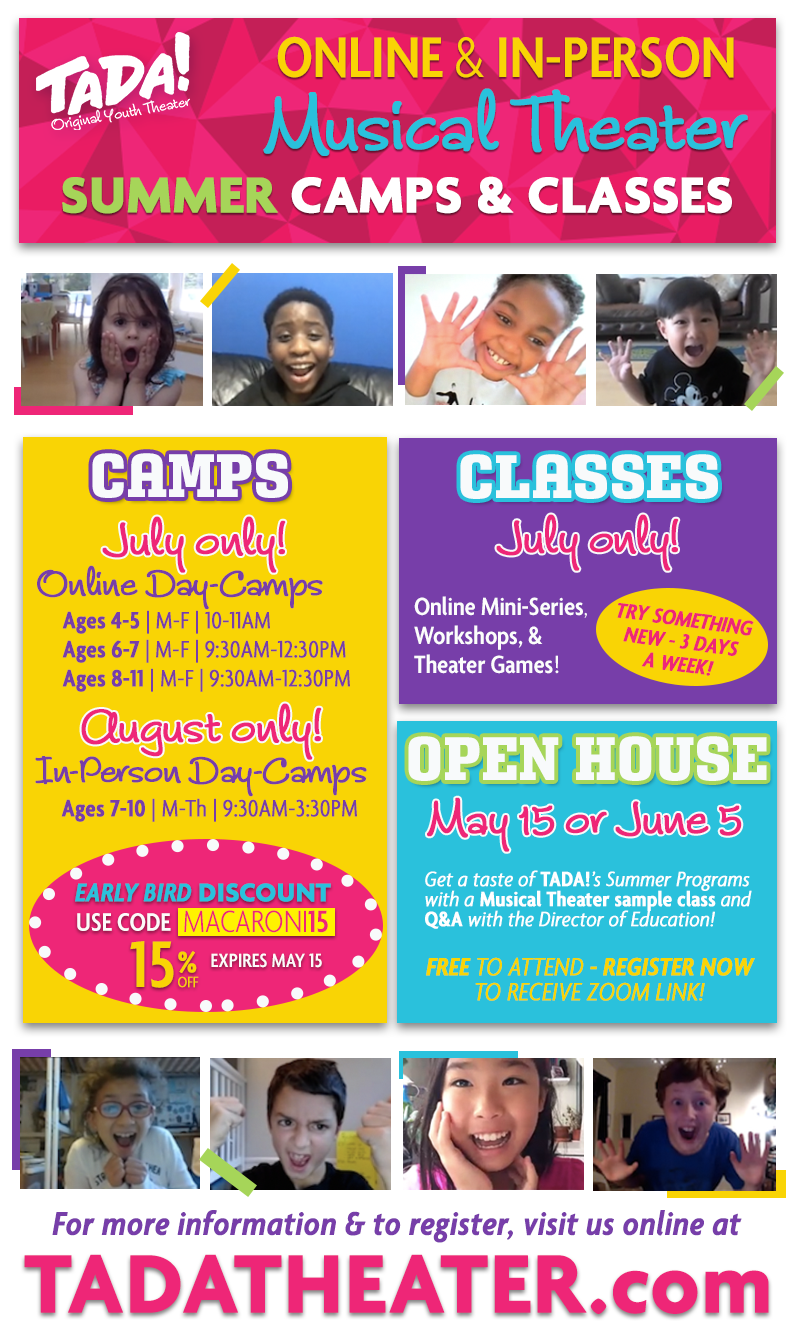 Business Review
"The AMAZING teachers at TADA have been wonderful and accommodating during the pandemic. Although nothing beats in-person classes, the Zoom live online classes have really uplifted my daughter. She gets to have some routine back and have fun with engaging teachers whilst making new friends. I hear her laughing throughout the class with an enthusiasm to match. At the end of the musical theatre day-camp, we get to see the fruits of their labor with a fun final performance and their efforts really uplifted our spirits."
- Yin Lau, parent